Top Singapore Immigration Specialist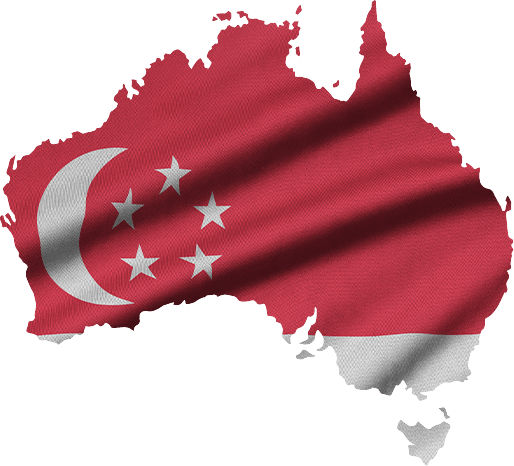 VISA SERVICE
Singapore Visa
Singapore has a large expat population and this shows the desire to welcome foreigner nationals who want to live and work in the country. Singapore has a strong economy and is home to some of the highest paid in the world. It is also offer world-class education at every stage from primary level to university. Singapore is among the safest country in the world to live in. It is a multicultural society with a rich history. Singapore's healthcare system is one of the top notches in the world.
Temporary Residence
Visa Programs
Best Immigration Consultants to Get PR in Singapore
Singapore is one of the world's busiest business hubs and a nerve centre of the global economy. Countless foreign nationals apply for Permanent Resident (PR) status in Singapore each year to become a part of this vibrant society and thriving economy. However, only 10% of PR applicants get this coveted status. Singapore's immigration rules are some of the toughest in the world, and you need expert guidance from top-tier migration agents to crack the PR status. Singapore immigration consultants from Strategic Migration Services understand the nuances of the application process. They can show you how to apply for PR in Singapore so that you are one of the lucky ones who make it to the list.
Our Singapore immigration specialists leave no stone unturned to get you PR approval so you can start your dream life in this island state. We are the leading PR agency in Singapore, with a proven record of success in getting visas and PR approvals quickly and efficiently.
Why should you settle in Singapore?
Good & Stable Employment
Between 2023 and 2024, there will be a constant growth in the number of employed people in Singapore of 0.01 million (+0.26%). The number is estimated to amount to 3.83 million people in 2024.
Low Inflation
Singapore's annual average inflation rate was 0.57 percent in 2019, down from 0.58 percent in 2018, and it appeared to be recovering after falling below zero in 2015 and 2016. Singapore's inflation is projected to peak in 2028 at about 1.99 percent.
Gross Domestic Product (GDP)
After adjusting for inflation, Singapore's gross domestic product (GDP) grew by 3.66 percent in 2018. While increased from the prior two years, this figure is anticipated to fall in 2023 and settle at 2.5 percent.
Gross Domestic Product (GDP) growth in Singapore in 2022, by industry
In 2022, the food and beverage industry in Singapore experienced the highest growth rate among all economic sectors in the country, reaching 18.2 percent. During the same year, Singapore's GDP recorded a 3.6 percent overall growth.
Occupations in Demand
1. Sales Development Representative
2. Cloud Engineer
3. Enterprise Account Executive
4. Enterprise Account Executive
5. Cybersecurity Engineer
6. Site Reliability Engineer
7. Back-End Developer
8. Cybersecurity Consultant
9. Technical Account Manager
10. Customer Success Specialist
Employment Rate by Ministry of Manpower Singapore
The employment figures indicate the economy's job creation capacity.
Changes in employment provide insights into how economic shifts affect the labor market, especially when examining employment by sector to identify areas experiencing growth or decline in jobs.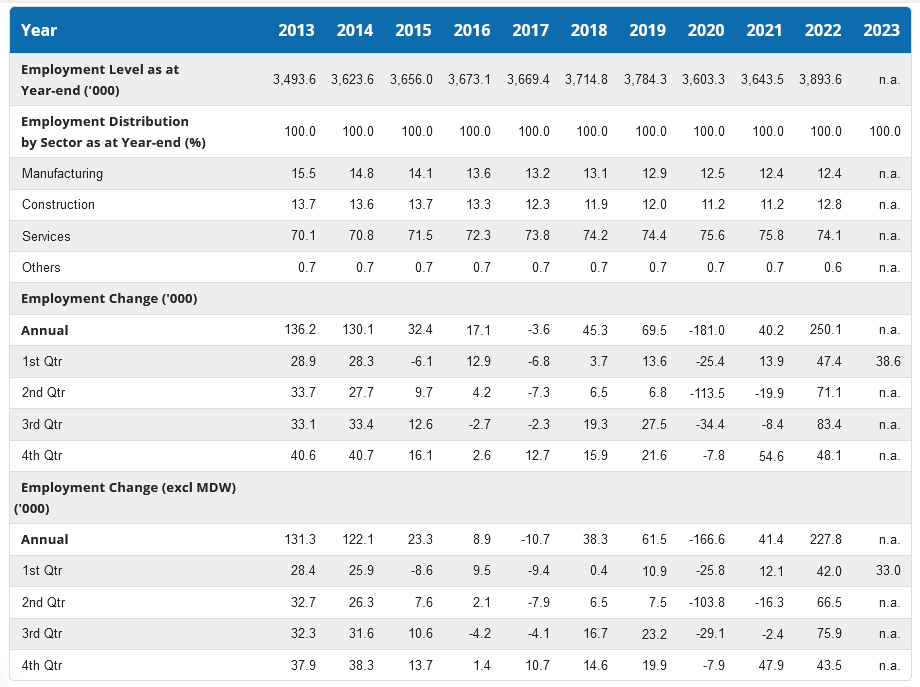 Notes:
Data are compiled primarily from administrative records, with the self-employed estimated from the Labour Force Survey.
Previously, only data from December 2016 onwards are based on SSIC 2020. In this update, data from December 2008 onwards are revised to be based on SSIC 2020.
Residents refer to Singapore Citizens and Permanent Residents.
Change in employment is the difference in the employment level at the end of the reference period compared with the end of the preceding period.
Data for the three major sectors do not add up to the total as the latter includes Agriculture, Fishing, Quarrying, Utilities, and Sewerage & Waste Management.
'excl MDW' refers to excluding migrant domestic workers.
Data may not necessarily add up to the total due to rounding.
p = Preliminary
n.a. = Not available
Source: https://stats.mom.gov.sg
Average Salaries in Singapore in 2023
MEDIAN GROSS MONTHLY INCOME FROM WORK OF EMPLOYED RESIDENTS AGED FIFTEEN YEARS AND OVER BY NATURE OF EMPLOYMENT,
2012 – 2022 (JUNE)
(Exclude Full-Time National Servicemen)
June
Including Employer CPF
Excluding Employer CPF
Total
Full-Time
Part-Time
Total
Full-Time
Part-Time
2012
3,133
3,480
812
2,800
3,000
800
2013
3,364
3,705
885
3,000
3,250
800
2014
3,444
3,770
928
3,000
3,276
827
2015
3,549
3,949
943
3,125
3,467
850
2016
3,680
4,056
1,000
3,250
3,500
938
2017
3,803
4,232
1,000
3,300
3,749
1,000
2018
3,949
4,437
1,053
3,467
3,800
1,000
2019
4,095
4,563
1,090
3,561
4,000
1,000
2020
4,095
4,534
1,130
3,573
4,000
1,000
2021
4,180
4,680
1,170
3,683
4,000
1,042
2022
4,680
5,070
1,287
4,083
4,500
1,200
 
Source:Comprehensive Labour Force Survey, Manpower Research & Statistics Department, MOM
Why Apply For Singapore PR?
Our Singapore migration agent can facilitate every step of your application journey. But why should you take this leap of faith? Here are some reasons why you should apply for PR in this country:
Blue Card Status: With a blue card, you can leave and enter the country freely without applying for new visas. You can live and work in any part of this island.
File an Application for Your Spouse and Young Children: Your application can include PR requests for your spouse and children under 21 years.
Visas for Parents: Your parents can get approvals for long-stay temporary visas if you have PR status.
Pension Fund: You can take advantage of the flexible pension fund called CPF as a permanent resident. 
How to Apply For PR in Singapore?
To apply for PR in Singapore, you need to go through the following steps:
Check your eligibility with the help of Singapore immigration consultants
Submit your application on the online portal with relevant documents vetted by our Singapore migration agents
Pay the application fee (S$100)
Wait for your approval and prepare for post-approval formalities with the help of top Singapore immigration specialists
You can fill out your Singapore PR application form online according to the advice from our expert team. We have the best immigration consultants in Singapore to ensure you have a seamless experience.
Eligibility Criteria for Becoming a Permanent Resident in Singapore
---
As a foreigner, you may be eligible to apply for permanent residence if you are a/an:
Spouse of a Singapore citizen or Singapore permanent resident (PR)
Unmarried child aged below 21 years old, born within the context of a legal marriage to, or have been legally adopted by, a Singapore citizen or PR
Aged parent of a Singapore citizen
Holder of an Employment Pass or S Pass
Students studying in Singapore
Foreign investor in Singapore.
NOTE: ICA considers factors such as the individual's family ties to Singaporeans, economic contributions, qualifications, age, family profile, and length of residency, to assess the applicant's ability to contribute to Singapore and integrate into our society, as well as his or her commitment to sinking roots in Singapore.
A Permanent Resident (PR) in Singapore is a foreign individual who has been granted the right to live in the country permanently. PRs aged 15 years and above will receive the Singapore Blue Identity Card (IC). To travel abroad and return as a PR, one must possess a valid Re-Entry Permit.
ICA is not associated with any external migration agency or commercial entity that purports to be the Singapore immigration specialist or consultant or claims to be its partner. Additionally, ICA does not endorse or support services provided by self-proclaimed professional immigration consultancy service providers for Permanent Residence applications.
Documents Required
You will need to read through the following explanatory notes and submit the required supporting documents listed below via the e-Service if you are a/an:
If you are a foreign investor in Singapore, you can apply for permanent residence at the Singapore Economic Development Board under the Global Investor Programme.
Procedure
All permanent residence applications must be submitted online using the e-Service. Applicants can either key in the application details online or download and complete the PR application form offline before submitting it online.
You may submit a PR application online with a valid Singpass account if you are a:
Singapore citizen or PR who is applying for PR for your spouse or unmarried child aged below 21 years old
Singapore citizen who is applying for PR for your aged parent
Employment Pass or S Pass holder who is applying for PR for self and spouse or unmarried child aged below 21 years old.
If you are presently enrolled as a student in Singapore, you can utilize the e-Service by providing your Foreign Identification Number (FIN) and the issuance date of your valid immigration pass.
As a foreign investor in Singapore, you have the opportunity to apply for permanent residency through the Global Investor Programme at the Singapore Economic Development Board.
To learn more about the accessibility of e-Services, you can consult the Frequently Asked Questions and the Step-by-Step guide for PR applications, both of which are accessible within the e-Service platform.
Fees
At the time of submitting the PR application, each applicant must pay a non-refundable processing fee of S$100.
Payment can be made using
Visa or MasterCard credit/debit card or,
American Express (AMEX) credit card or,
Internet Direct Debit (DBS/POSB, OCBC, UOB, and Standard Chartered Bank Internet Banking accounts in Singapore) or,
PayNow.
Approval
Once your application is approved, each applicant will be required to personally complete the PR formalities at our office in ICA, with corresponding fees applicable for each individual.
S$20 for Entry Permit
S$50 for a 5-year Re-Entry Permit
S$50 for Identity Card
S$30 per Entry Visa (foreigners requiring a visa).
The above fees are payable via NETS, Credit Card (Visa/Mastercard), or Mobile Payment.
Processing Time
ICA carefully considers and reviews all applications for permanent residence. The standard processing period for each application is six months, although some may require additional time for processing.
If your PR application is still being processed, you can check its status online via MyICA or the e-Service, where it will be shown as "Pending".
You will be informed of the outcome by email or post.
Why Choose Us to Apply for an Online PR Application in Singapore?
We are the leading PR agency in Singapore because we offer end-to-end support for your application process. You can rely on us for Singapore PR application tips, document verification, round-the-clock support, and more. We have long-term experience in evaluating ICA's PR approvals and rejections to guide you along the best path.
Whether you want to know what is the best time to apply for Singapore PR or the documents you need to pass this process, our team can help you. Contact us today to initiate your journey of getting PR status in this Asian economic powerhouse.
FREQUENTLY ASKED QUESTIONS
Destination countries
we can secure your visa for