Express Entry for Pr Skilled Worker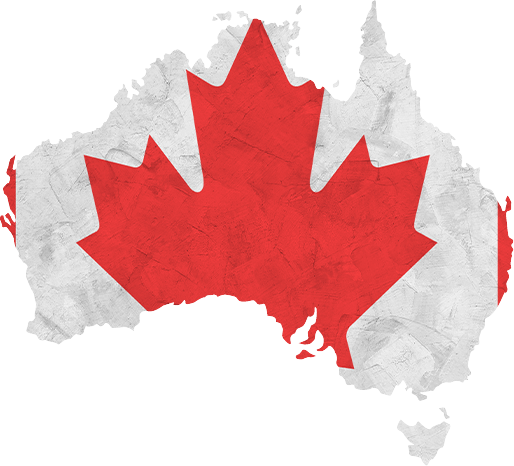 VISA SERVICE
Canada Visa
Canada is one of the best places to be in and it is also one of the safest countries in the world. Canadians highly value their quality of life and is a direct influence to new migrants who wish to have a change from their country of birth/residence. Canada's economy and infrastructure work perfectly in unison and it is made possible due to a stable government. In terms of education, it is internationally recognized and this is a major attraction for foreign nationals to commence or upgrade their skills in Canada.
Unlock Your Future with a New Life in Canada
Canada offers high living standards for people immigrating from different parts of the world. It ranks highly on parameters like social cohesion, safety, and technological advancement; offering the perfect opportunity for families to live and work in Canada. You can explore exciting professional opportunities and help your children develop within the advanced school system of this country.
If you are hoping to get Canada immigration from Singapore, you must understand Canada's visa requirements. Experts from Strategic Migration Services, the top Canada immigration agency, can help you unlock your dream future and move to Canada with the right advice!
Top 10 Most Prominent cities of Canada
Toronto
Montreal
Calgary
Ottawa
Edmonton
Mississauga
Winnipeg
Vancouver
Brampton
Quebec
Why should you settle in Canada?
Good & Stable Employment
The amount of employed people in Canada were estimated to continuously increase between 2023 and 2024 by in total 0.2 million people (+1 percent). The number are estimated to amount to 20.14 million people in 2024.
Low Inflation
Canada's inflation rate is in fairly good shape in comparison with the rest of the world. Oil and gas prices have dropped in Canada much like they have around the world. This has helped to offset some of the impact of dropping oil and gas prices and the effect this has had on Canada´s inflation rate.
Gross domestic product (GDP)
Its GDP per capita in 2014 was amongst the largest in the world and throughout the same year, GDP increased by over 2.5 percent comparing to the previous year. In the time period between 2009 and 2010, Canada was among the foremost countries with the highest political stability in the world.
Below statistic shows the gross domestic product (GDP) in Canada from 1987 to 2021, with forecasts up until 2027. In 2021, the GDP in Canada was around 1.99 trillion U.S. dollars.
Occupations in demand
IT & software
Engineering
Accounting and Finance
Human Resources Management
Hospitality
Sales & Marketing
Healthcare
STEM
Teaching
Nursing
National Occupational Classification (NOC)
The National Occupational Classification (NOC) is Canada's national system for describing occupations.
You can search NOC to find where an occupation is classified or to learn about its main duties, educational requirements or other useful information.
TEER categories and examples of jobs
| | | |
| --- | --- | --- |
| TEER | Occupation types | Examples |
| TEER 0 | Management occupations | Advertising, marketing and public relations managers |
| | | Financial managers |
| TEER 1 | Occupations that usually require a university degree | Financial advisors |
| | | Software engineers |
| TEER 2 | Occupations that usually require | Computer network and web technicians |
| | a college diploma | Medical laboratory technologists |
| | apprenticeship training of 2 or more years, or | |
| | supervisory occupations | |
| TEER 3 | Occupations that usually require | Bakers |
| | a college diploma | Dental assistants and dental laboratory assistants |
| | apprenticeship training of less than 2 years, or | |
| | more than 6 months of on-the-job training | |
| TEER 4 | Occupations that usually require | Home child care providers |
| | a high school diploma, or | Retail salespersons and visual merchandisers |
| | several weeks of on-the-job training | |
| TEER 5 | Occupations that usually need short-term work demonstration and no formal education | Landscaping and grounds maintenance labourers |
| | | Delivery service drivers and door-to-door distributors |
You can view the full list of occupation classifications under NOC 2021 on the ESDC site. Choose "NOC 2021" from the drop-down menu to search for your occupation.
Source: www.canada.ca
Average Salaries in Canada in 2023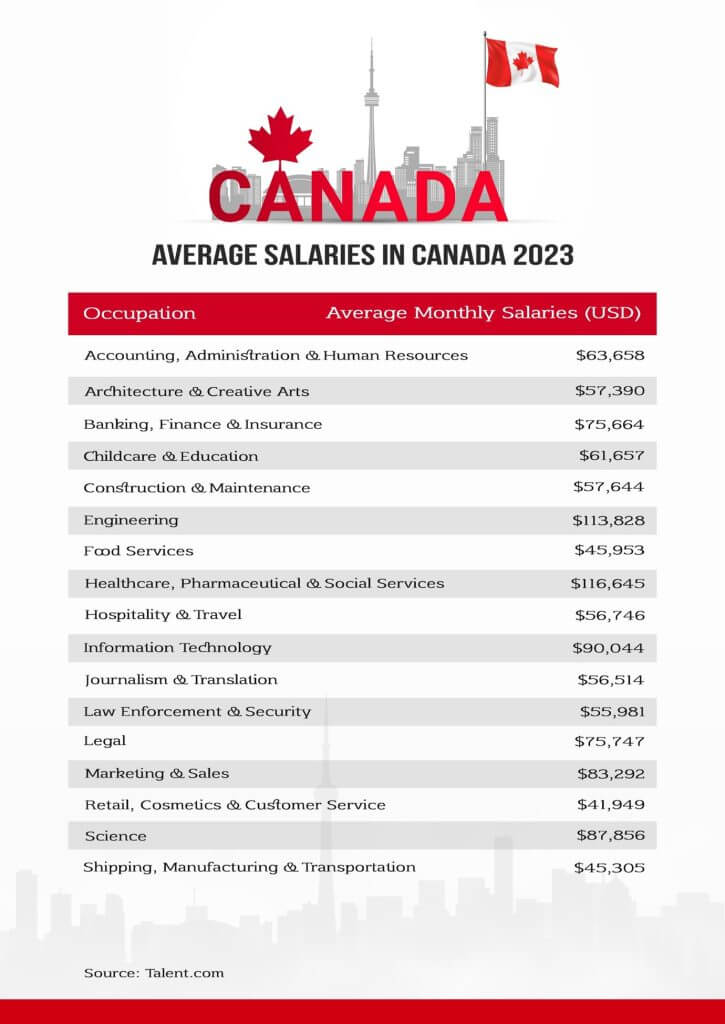 The Best Immigration Consultants for Canada from Singapore
We have a team of the best immigration consultants for Canada. We help people in Singapore make a move to their dream country without compromising on legal necessities. Whether you need advice about Canada express entry or need facilitation for Canada visa services, our team can help you out!
The Canadian government has initiated the Immigration Levels Plan, a scheme extending between 2022 and 2024. This action plan highlights Canada's commitment to welcome 1.3 million immigrants over 2022, 2023, and 2024. You can take advantage of this scheme with the support of skilled consultants who can help you navigate your immigration journey!
The Benefits of Applying for a Canada Visa from Singapore
Access to Promising Employment Opportunities: When you reach Canada with your temporary or permanent residency visas, you can experience exciting employment opportunities in this highly developed country. Permanent residence (PR) visa holders do not have the obligation to stick to one employer. Even temporary visa holders can use their entry to Canada to check out further opportunities to grow in the future.
Social Benefits: The Canadian government provides excellent benefits to PR visa holders. If you have over 40 credit points as a PR holder, the government may provide retirement benefits, disability benefits, and more. Choosing Canada immigration from Singapore can also help you reap the advantages of its peaceful and cohesive social system, helping your family flourish in this environment.
Free Medical Care: Canada has one of the best-developed medical infrastructures in the world. It offers free healthcare facilities to PR holders. Permanent residents are also eligible for the public health insurance scheme from the government.
Inexpensive Access to High-Quality Education: Education for the children of permanent residents is free till they turn 18. Even after high school, Canada's PR holders can get significant rebates on university tuition fees for their children.
Right to Start a Business: Permanent residents can start enterprises in Canada without being direct citizens. They can initiate their businesses using various models like franchises, sole proprietorships, and corporations.
Pathway to National Citizenship: A PR holder's visa is valid for five years. If one has physically been present on Canadian soil for at least 1095 days (3 years) out of this period, they can become eligible for official citizenship. Therefore, a Canada visa from Singapore can kickstart your move towards full citizenship in your dream country. Canada express entry for skilled workers can pave the way for your permanent move to Canada.
How to Apply for a Canadian Work Visa from Singapore?
People in Singapore have many options to apply for visas to Canada. You can apply for temporary and permanent work visas. Broadly, the following are the categories available for getting work visa permits in Canada:
Express Entry: You can get Canada PR as a skilled worker using the express entry route. You can apply for Canada express entry if you have relevant work experience in a skilled trade. The government agencies will assess your application by assigning scores to your education level, work experience, and language skills to determine whether you should receive PR status. They also evaluate your adaptability while making this decision.
Provincial Nominations: You can get a work visa to visit this country if a Canadian province nominates you for the same.
Atlantic Immigration Programme: Some applicants can enter Canada with an eligible work visa if they have worked or studied in regions like Nova Scotia, New Brunswick, Prince Edward Island, Labrador, or Newfoundland.
Start-Up Work Visa: If you are an entrepreneur from Singapore, you can apply for a start-up visa. The Canadian government has earmarked opportunities for foreign nationals who come and create jobs in the country.
Rural and Northern Immigration Pilot: Participating communities in Canada can offer immigration pathways to foreign nationals who fit their socio-economic needs.
Family Sponsorship: Permanent residents can sponsor their spouses and children to enter Canada and start to live and work in Canada.
Quebec-selected entry for Skilled Workers: Quebec has a unique scheme for bringing in skilled immigrants from foreign countries.
Caregiving: Caregiving professionals can get a work visa to Canada. The guidelines of the government scheme for live-in caregivers can help them get this permit.
Self-Employed Work Visa: Individuals possessing exceptional artistic or athletic calibre can get a self-employed visa to move from Singapore to Canada.
Agri-Food Work Visas: Individuals who work in certain agri-food industries can get special work visas.
Other Temporary Work Visas: If you want to briefly work in Canada, there are many options like post-graduate work permits. Canada also offers options to temporary visa holders for converting their permits to permanent residency.
You can file your Canada visa application online. You can complete the process by applying online, mailing the documents for verification, and waiting for your visa. Singapore's Canada visa office can facilitate this process.
Eligibility criteria
Express Entry is an online system that Canada uses to manage applications for permanent residence for 3 programs:
Federal Skilled Worker Program
Federal Skilled Trades Program
Canadian Experience Class 
Eligibility criteria for Express Entry 
Eligibility criteria
Canadian Experience Class
Federal Skilled Worker Program
Federal Skilled Trades Program
Language skills
English or French skills
English or French skills
English or French skills
CLB 7 for TEER 0 or TEER 1 occupations
CLB 7
CLB 5 for speaking and listening
CLB 5 for TEER 2 or TEER 3 occupations
CLB 4 for reading and writing
Type/Level of work experience
Canadian work experience in an occupation listed in 1 or more of these NOC TEER Categories:
Work experience in an occupation listed in 1 of these NOC TEER Categories:
Work experience in a skilled trade under key groups of TEER 2 or TEER 3:
TEER 0
TEER 0
Major Group 72, technical trades and transportation officers and controllers, excluding Sub-Major Group 726, transportation officers and controllers
TEER 1
TEER 1
Major Group 73, general trades
TEER 2
TEER 2
Major Group 82, supervisors in natural resources, agriculture and related production
TEER 3
TEER 3
Major Group 83, occupations in natural resources and related production
Major Group 92, processing, manufacturing and utilities supervisors, and utilities operators and controllers
Major Group 93, central control and process operators and aircraft assembly assemblers and inspectors, excluding Sub-Major Group 932, aircraft assemblers and aircraft assembly inspectors
Minor Group 6320, cooks, butchers and bakers
Unit Group 62200, chefs
Amount of work experience
One year in Canada in the last 3 years (either combination of full-time or part-time work)
One year continuous within the last 10 years (combination of part-time, full-time or more than 1 job in your primary occupation)
Two years within last 5 years (either combination of full-time or part-time work)
Job offer
Not required.
Not required.
Required:
But you can get selection criteria (FSW) points for having a valid job offer.
a valid job offer of full-time employment for a total period of at least 1 year or
a certificate of qualification in that skilled trade issued by a Canadian provincial, territorial or federal authority
Education
Not required.
Secondary education required.
Not required.
You can get more selection criteria (FSW) points for your post-secondary education.
Source: www.canada.ca 
Eligibility Requirements
Eligibility requirements to apply to Express Entry as a skilled worker, you must:
Here are the key requirements to apply for Canadian PR visa through popular Express Entry System:
Express Entry has 6 selection factors, based on which IRCC assesses the applicants.
Age: Minimum 18 years to no upper age limit. Maximum points when you are between 18-35 years.
Education: Minimum qualification is higher secondary. You need to provide ECA (Educational Credential Assessment) from an approved assessing authority, i.e., WES, to verify your qualification as per Canadian education standards.
Work experience:
FSW – Minimum of 1-year full-time work experience within ten years.
FST– Minimum 2 years of full-time work experience in a Skilled Trade within five years.
CEC– Minimum 1 year of skilled work experience in Canada, in the last three years before.
Language ability: Proficiency in English or French is necessary. Also, add the approved language test result, i.e. IELTS, CELPIP, etc. to claim language ability points:
Federal Skilled Worker (FSW) – Canadian Language Benchmark (CLB) 7 for all language abilities, i.e. Speaking, Listening, Reading and Writing.
Federal Skilled Trades (FST)- CLB 5 for speaking and listening, and CLB 4 for reading and writing
Canadian Experience Class (CEC)- 
CLB 7 for NOC 0 or A jobs or
CLB 5 for NOC B jobs
Adaptability: Get adaptability points for your partner's past education, work experience, relative, etc. in Canada, or your spouse/partner has CLB 4 level of language proficiency.
Arranged employment: This means you have a valid job offer from a Canadian employer. It adds 15 points on the FSW selection factors.
You need to score a minimum of 67 points based on the above six factors, to qualify as an applicant while applying for Federal Skilled Worker (FSW) category of EE system.
Apart from the above, keep these documents at your side, such as, birth certificates, marriage certificates, photographs, proof of funds documents, etc.
Why Choose Us for Applying for a Canada Visa from Singapore?
As you can tell, there are several complicated visa options to move from Singapore to Canada. Strategic Migration Services will help you identify the best option for you. Our team of experts have years of experience in navigating this process and will support you in streamlining your application process. Whether you want Canada PR as a skilled worker or other types of Canada visa services, we can help you jumpstart your journey.
We curate a full suite of services to take you through your visa approval process from double-checking your documents to perfecting your application, we help you minimise the chances of rejection. Even if you live outside Singapore, our team can get in touch via video conferencing and messaging applications to support you in this process. Here are the benefits you can expect when you sign up for our service:
Identification of the most suitable visa options for you and your family
Hassle-free management of your visa application
Prioritised resolution of your complaints and queries
Support at every stage of your visa application process
FREQUENTLY ASKED QUESTIONS
Destination countries
we can secure your visa for